As promised here is my new Kitchen Sink Stamps card. I used 3 different sets for this card, 1 of them is for a new release sometime December - can you tell which one?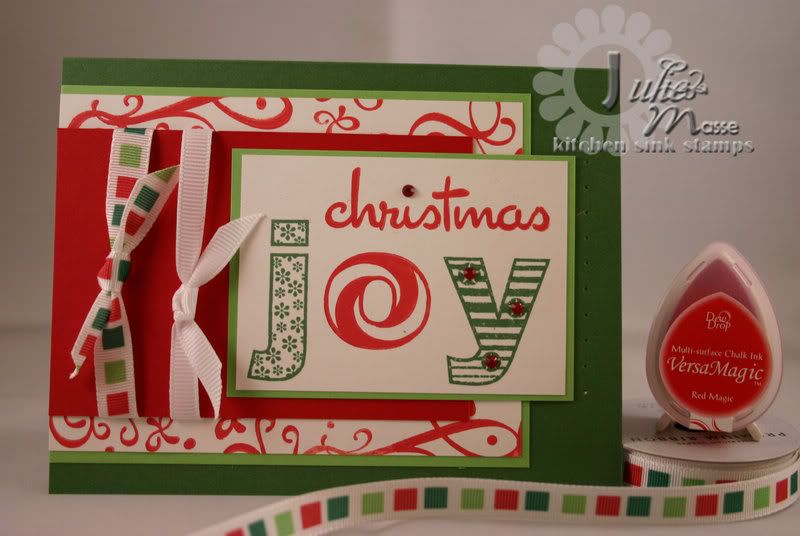 The first set is called Playful Alphabet and it's so much fun!! There are tons of possibilities with this set. Each letter has a different pattern inside and I just love how the "o" looks like a candy cane or peppermint candy! For the background on the white layer I used Backgrounds & Borders. Can I tell you how HUGE this set is?? There are tons of designs and in different sizes too - how great!! This swirl reminds me of Christmas ribbon candy. The final set I used (for Christmas) is called Never a Loss 4 Words and it too is HUGE - tons of words in different sizes and a beautiful font, definitely a MUST HAVE!
The colors for this card came from the ribbon which is American Crafts and available in the Paper Pretties Corner Store as are the beautiful Swarovski crystals over the "i" and in the "y". It's hard to see from the photo but over to the right of the "Joy" image I paper pierced a line.
Fun card! The sketch is Beate's Weekend Sketch Challenge #26. I'm too late for her drawing but the sketch is awesome - give it a try!!
I think it's about time for some blog candy don't you agree? The last time I did a give away I asked for name submissions for blog candy and I never told you what I chose . . . the overwhelming choice was Jules Jewels (there were variations on the spelling but I went with they way I spell my nickname). So leave me a comment on this post - tell me which Kitchen Sink Stamp set is your favorite. I will choose a winner on Monday, Nov. 12 and that person will receive the new Playful Christmas set (I will order it and have it sent directly from KSS).
Have fun and tell your friends! :) Have a great day everyone!