Good morning!! I am having a blessed day off - yea!!! My MIL has graciously offered to take 3 of my children for the day - every Monday!! How wonderful is that?! She just drove away and I am enjoying the quiet while the baby takes his morning nap! So I need to be quick so I can stamp before he wakes up! :)
Here are my other two projects from the Paper Pretties Stamping in Your Jammies night last week. This first one was a technique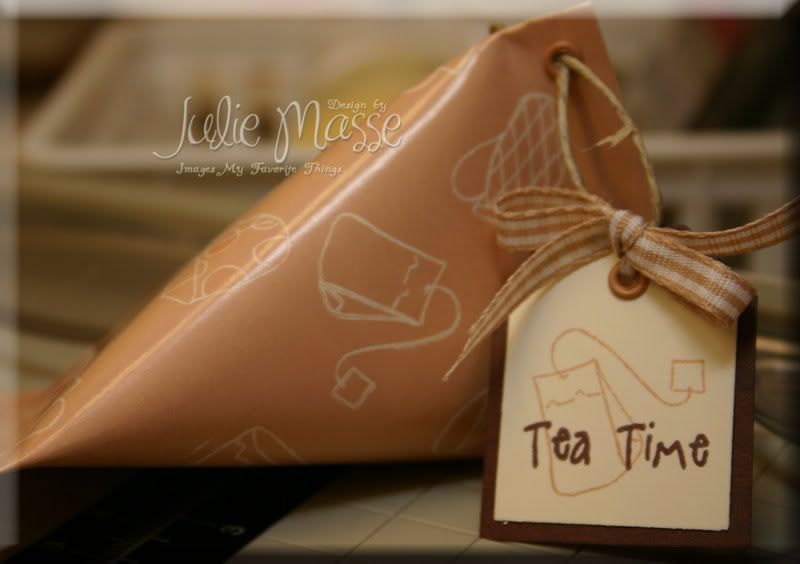 challenge - to make a sour cream container. If you've never made one of these, they are SUPER easy and come out just so cute! Here is a tutorial by Cambria Turnbow if you'd like to try - you can put just about anything in them and you can make whatever size you like, just change the size of the paper! I made mine using glossy white paper and versa-resist, using Creamy Caramel for ink - super easy!! The stamp set is Hot Stuff from My Favorite Things.
The last challenge was a sketch challenge - which you know I LOVE!!
I used Veggiebella - I think for the first time!! She was a lot of fun to color because there is so much detail! I used SU!'s Apple Cider paper from the current mini with Really Rust, Chocolate Chip, Very Vanilla and Wild Wasabi. The little garden spade is from an adorable set of Karen Foster Mini Charms - Garden which are available in the Paper Pretties Corner Store. I also used some great Cappuccino Bella Baubles to dress up my photo corner.
Gotta run . . . I hope to get lots done today!! Have a great day everyone and thanks for stopping in!