How many of you are groggy this morning 'cause you stayed up late last night for the Papertrey Ink release - show of hands please??!! :) Ok, it was a fun night but boy my little laptop was having problems keeping up - can we all say "REFRESH??"!! LOL!
By the way, did you know I know someone famous?? Yes I do! Our very own Prettie Girl , Jillian Winters won the Guest Star Stamper this month! Go check out her BEAUTIFUL card! Congrats Jillian - don't forget us "little people!" :)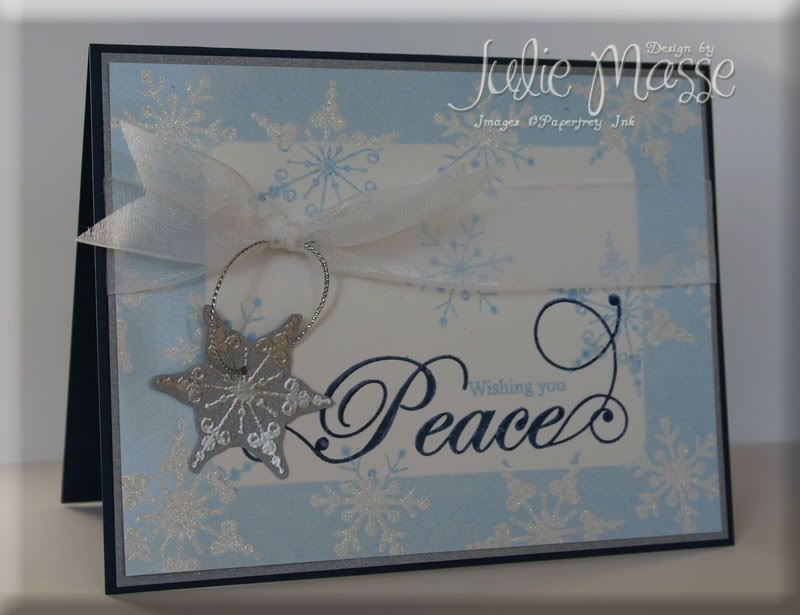 I thought I'd post the one card I was able to finish for the Guest Star Stamper submissions. Truthfully I did this card a couple of weeks ago and forgot about it, what??! But I do really like how it came out! The picture soooo does not do it justice! Funny it's the same color scheme as Jillian's pretty card too! :)
Ok, first I made a mask using a post-it note, rounding the corners with my corner rounder punch. I then stamped the snowflakes with Versamark and embossed with Iridescent EP. Then I brayed it with Bashful Blue until I got the color I wanted. Then I removed the mask and using a piece of acetate to cover the white part of the stars, I stamped them in blue on the white part - see how some of them are half white and half blue - I love that! I stamped Peace in Night of Navy with the small sentiment about it in Bashful Blue. Finally, I stamped a snowflake on silver cardstock and embossed it with silver EP - cut it out and added it to my white organdy ribbon with some silver cording. The base of the card is Night of Navy and Silver. It's a much prettier card IRL!
I have lots to do today as I'm sure you all do . . . so enjoy the day!! Thanks for coming by!!